Embroidery digitizing for a brewing and smokehouse restaurant. Beer House Logo Embroidery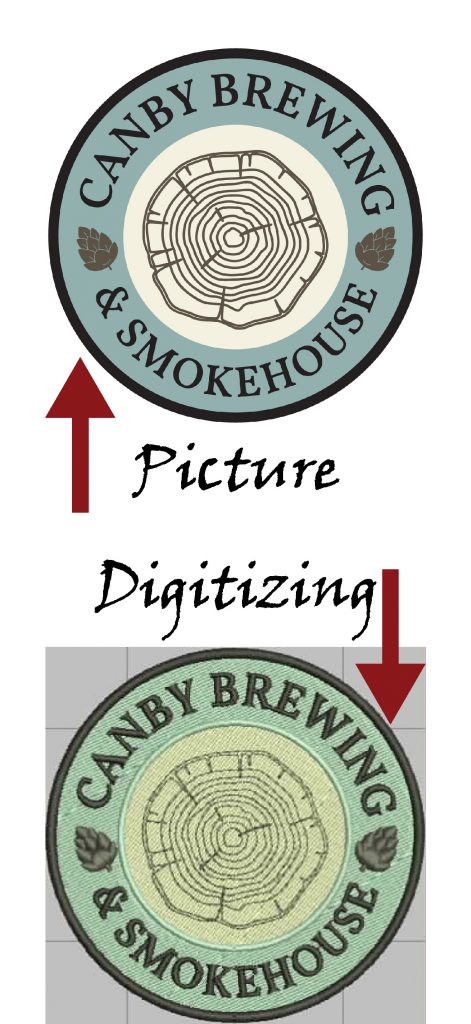 Beer House Logo Embroidery. Restaurants (especially small/local ones) need to stand out with their logo and style. One way to do this is to make sure all the staff are flaunting their company's logo proudly. This digitizer carefully chose how to express the complex wood log image with all its rings and cracks. This helps it to work well at the left chest size. Because it is not enough to punch the design to look good in the stitched format. You also need to digitize it to stitch out properly. Otherwise you will be left with a mess, and you don't want a mess symbolizing your company!
Digitizing Price
Now, you ask how much? We can digitize at a left chest size for $30 with a one day turnaround. Our digitizers are very experienced and will recreate your logo by hand in the digitizing program.
Digitizing by Digitizing Artists
Our digitizers understand embroidery, which is the only way to go if you care how your stitch outs will come out. Copyartwork.com's mother company is J6 Designs, which does screenprinting and (you guessed it) embroidery! So you we can accommodate all from the beginner to the professional embroidery shop. Let us take care of it for you.
Sign up Free
Signup for free in 30 seconds!: https://www.copyartwork.com/signup.php
More Samples
Vectorsquad.com has many more samples, from vector redraw to embroidery digitizing samples. We also have artwork design samples through the "Hire a Freelancer" section. Check out more embroidery digitizing samples, like this one: https://vectorsquad.com/embroidery-digitizing-2-20-20/