Keep safe during novel coronavirus pandemic – COVID-19 Update for Copyartwork.com
COVID-19 Update for Copyartwork.com. We hope everyone is staying safe and weathering the storm business-wise during this difficult time amid the COVID-19 pandemic.
Customer service availability during COVID-19 quarantine
We (copyartwork.com and sister companies) are open for business per usual, but we may need to limit customer service depending on the situation. Please make sure to upload any requests online as much as possible to ensure the quickest service.
Process Requests Quickly
This image shows how to upload a corrections request online if needed.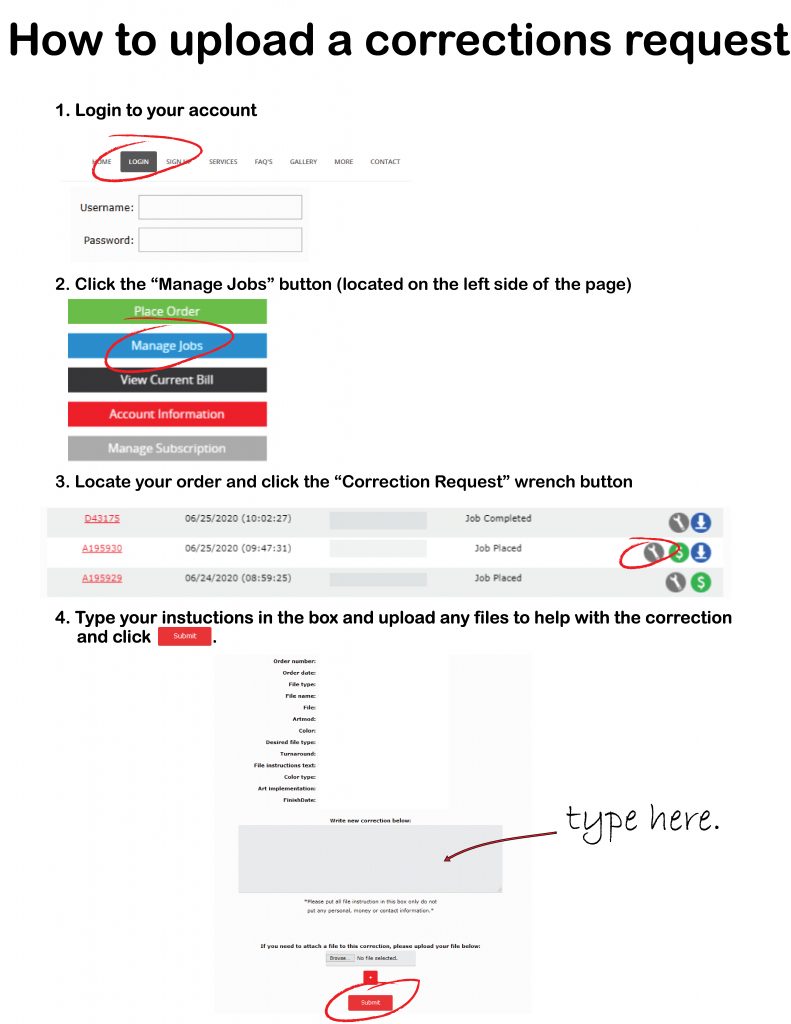 Thank you, from the Copyartwork.com team.
How do I make corrections?
Email the correction request to us, and they are usually taken care of within an hour. However, during times of high order volume, it may take a couple hours before the customer representative even sends the request to the art department to get processed. So this delay usually means that you will not get the edited design back until the next day. Alternatively, if you log in to your account, there is a wrench icon next to each completed order in the "manage jobs" section that you can click on to send a request directly for the art.
How do I upload files to your site?
Click the 'Control Panel' button after you are logged in. Next, select the button of the service you require. After that, the "Send Order" button for that service type. Once there, fill out all the information that page requires. On the "file" section, click the browse button and look for the file in your computer. Once you have located the correct file, Press Open, and that should put you back at the Send Page. Fill out any additional information in the text boxes and press Submit.
Copyartwork.com FAQ section
See more answers to commonly asked questions here: https://www.copyartwork.com/faqs.php
More NEWS
See more company news here: https://vectorsquad.com/category/company-news/