Digitizing Done Right
Embroidery Patch Emblem Digitizing. Embroidery limits (detail-wise) are directly related to it's sewn size. Our digitizing department recreates designs as close as possible to the original, and also ensures that they are done in a way that will stitch out well. Our digitizer did this at about 3.3″ tall. As seen here, we enlarged the image on the middle of the shield slightly, and the top of the gauntlet is done at crossing running stitches to interpret the dots, rather than using dots which would not sew well at this size. Ultimately, we can make these types of adjustments since an artist is recreating it by hand rather than some automated process, which would not work most of the time.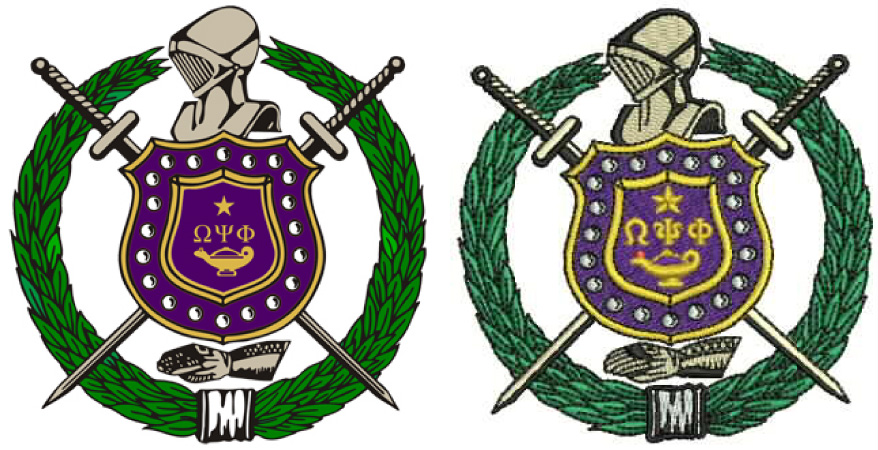 How do I know if my design will stitch out at a certain size?
Get a recommendation from our artists by sending an email to:
[email protected]
Easy as that!
First, send any questions to our customer service and they can check with the art department and get back to you, usually within an hour! So ask away. Tell us what you want and we will get you there.
Where do I sign up?
Sign up (Free) here:
https://www.copyartwork.com/signup.php

After you sign up you can start uploading your orders right away, no need to wait for a confirmation email. First, go to the "Control Panel". Next, click the button for the service needed. Then, click the button for the type of request (rush, etc) you need for that specific service. Finally, fill out the order form and click the "submit" button. You will need to complete your account information at this stage. After that, you should get a thank you message with your order number.
More Embroidery Digitizing Samples
You can find more posts with digitizing samples here: https://vectorsquad.com/category/copyartwork-com-services/embroidery-digitizing/