Gorilla Muscle Gym Vector. Before-after picture of a vector conversion of a gym image drawing. The original is low resolution and fuzzy. So, we recreated it in a vector program to make a clear and nice looking graphic by hand. The reason is, this is the only way to get a proper, clean, and professional looking result as seen below.
Sketch to vector conversion. Gorilla Muscle Gym Vector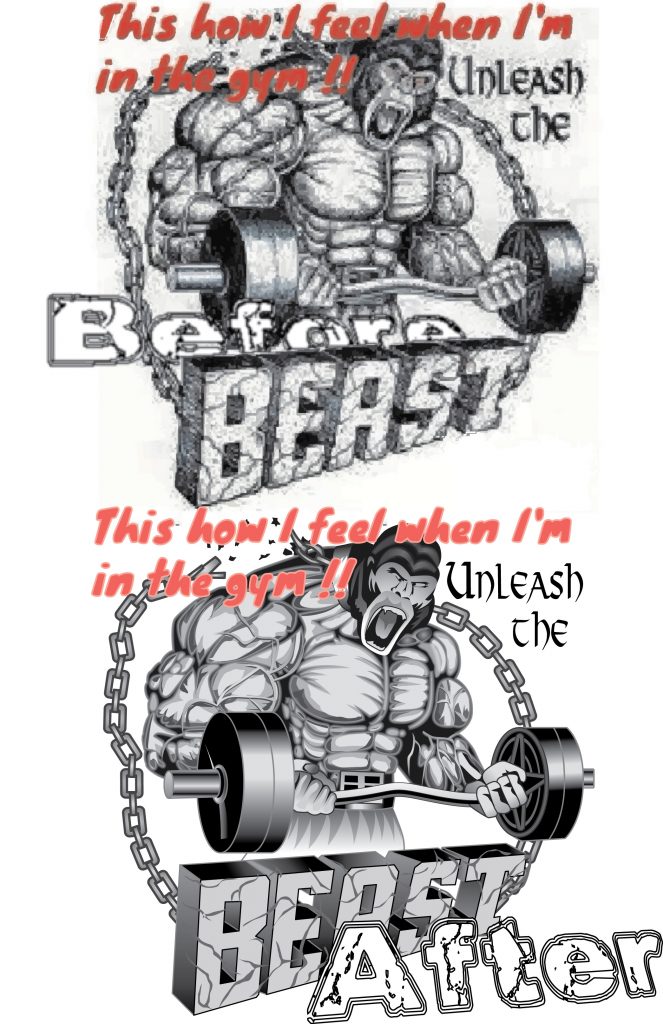 Unleash the BEAST (of vector artwork)
For those of you who are unfamiliar, if this was done with any kind of automatic function from a program, it would be an unrecognizable mess. We redraw the designs by hand in the vector program for ALL of our vectorizing orders. We produce clean and professional looking vector files that not only look great, but are also set up in a way that will make modifications and printing a breeze!
Want your image to be vectored?
You can do it now! Go to Copyartwork.com, signup for a free account, and upload your vector request. Then, you can even let the artist know what changes you would like on the order form to personalize it even more. Want lettering changes? Objects moved around? Just let us know!
What file type does it have to be for us to vectorize it?
Send us a JPG, PDF, etc. Send us any common file type! Since our artists just need to be able to see the image in order to redraw it, you don't have to worry about resaving your file in a specific file type before uploading it to our site. Vector image of a drawing? logo? picture? Then just send it over and let us take care of it for you.
Sign up
You can signup for free and get your vector created today!: https://www.copyartwork.com/signup.php
More Samples
See another vector file samples here: https://vectorsquad.com/scott-evans-horned-car-dealership-logo-convert-jpeg-to-vector/