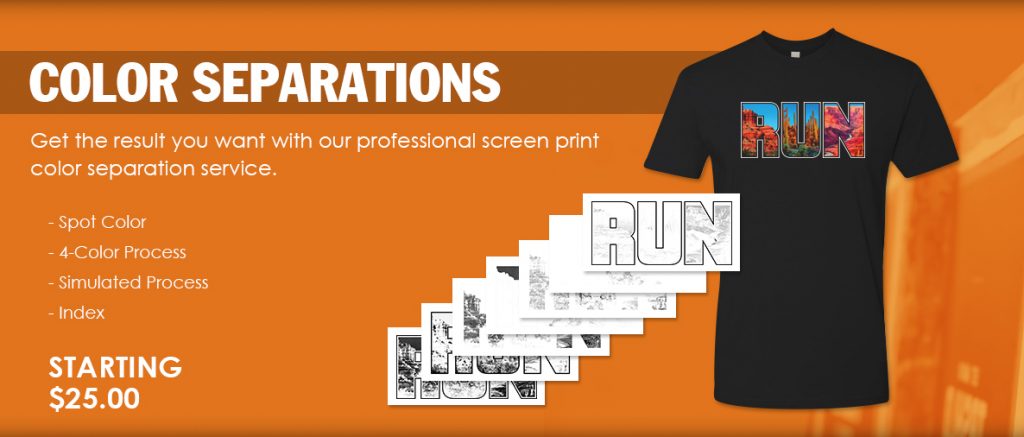 Attention Printers!- Silkscreen Separations Help
Want to print and not separate?
We understand as a small business owner, the key to profitability is in producing. If it doesn't come out of the oven then you're not making any money. Any other task beyond printing reduces the profitability of the job. Why sit there an work on the artwork and waste film and your time on something we can do at a cost that you can add to your customer. We are here to help lower those costs.
One area that drains profits is the artwork stage. If you are spending 3-4 hours doing artwork that means you are spending 3-4 hours not printing. We can help get artwork separated, and get you printing your films, with just a few clicks. Upload the file and save that time for working on another task. Such as burning and reclaiming screens. Even print another job, keep that carousal of profitability spinning and never stopping.
We can separate artwork using 4 types of separations.
Each of the separations is used for different types of artwork. Do you have 5-6 color press and have a full color image in front of you. Don't walk away from a job, we can use Simulated Process to help you print the films for that job without outsourcing.
Once you learn how to print 4 color CMYK, Index, Simulated, It opens up a new avenue for revenue. You will become the printer who other printers recommend for those type of jobs. We separate while you print.
One last thing. Links to more Separation info and tips
If you need help getting to knowing our separation service please check out this link:
https://www.copyartwork.com/separations.php
Here is link for tips and tricks on separations:
https://www.copyartwork.com/separation_tips.php
We are Happy to Help. Contact us
Please send us an email at [email protected] or call us at 909-605-6887 with any separations questions. We are happy to help!
Sign up here:
https://www.copyartwork.com/signup.php