Gobble Gallup – Beginning to the End
The customer has sketched out what they need, and as you can see, the artist has not only set up the lettering and graphics but has created very nice images of the turkey leg and pie.
If you need help with your next event and your printer is too busy printing shirts and not designing. We can help you. If your ideas are on a napkin or on an Adobe Illustrator file we can make it printable with 1-2 business days. Pick up the phone and you can talk us through your ideas and issues. No overseas communication problems at Copyartwork.com. We are a phone call away and work normal USA business hours. We pride ourselves in our Customer Service. Sign up for a free account and see the difference from other companies and just want your money and don't care if it's done correctly or not.
See the example below of hand-drawn sketch to final vector product your printer will love. The artwork drama means quicker turnarounds from the printer.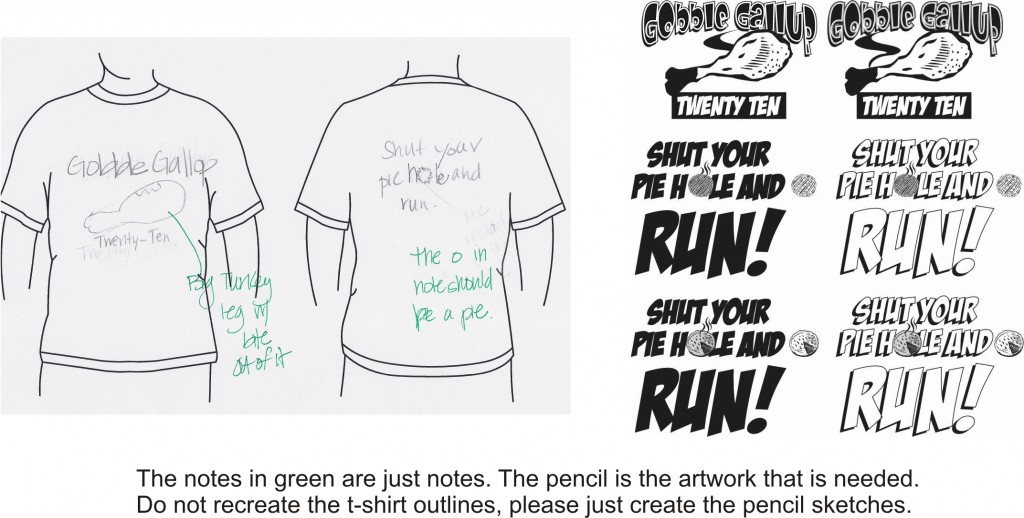 For anyone in need of original vector artwork, please sign up for a free account at our website (https://www.copyartwork.com/signup.php?webLang=Copy) and upload a "Hire a Freelancer" quote request.
For more information regarding our "Hire a Freelancers" service, please visit this page: