Get a 3D Puff File Created
You need a cap with a 3D logo stitched on the front. The embroiderer says you need a digitized file for that. Who do you call? Copyartwork! Our digitizers can take your logo and create a puff embroidery file that you can take to your embroiderer. So make your design stand out. Therefore, 3D puff will create a cool looking cap and make your logo look good. See the HP Logo 3D Puff Digitizing Example below.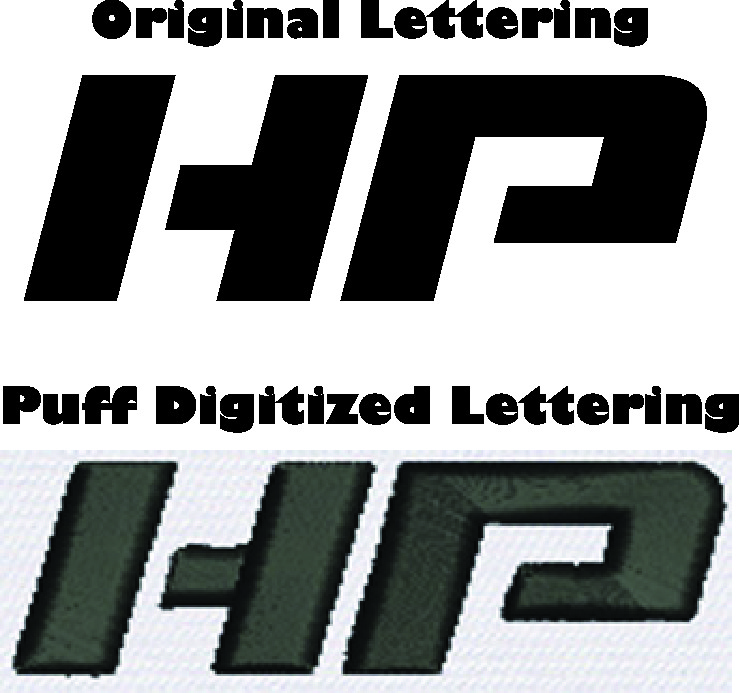 What is 3D Puff Embroidery?
Embroidery can be stitched in a way to make the design pop out in parts, called different things like 3d puff digitizing example or Puff stitch, etc. Embroiderers do this by doing a kind of wide satin stitch (stitching that goes back and fourth perpendicular to the direction it is stitching in) on top of a piece of puff foam. This raises the stitching in a way that gives it a 3rd dimensional look compared to standard embroidery.
I want my logo 3D Puff Digitized
First, simply upload your file through the digitizing section, and state on the order form you want it set up for 3D puff. Done! The service and process is very simple, and we make it this way because we know people don't want to spend more than 5 minutes talking to someone or writing things just to get a file digitized. You don't have time to waste time.
Quick Turnaround
Get it done quick. Our service gets the order done by the next morning over 95% of the time, meaning less than 24 hours. Moreover, we can even rush the order in a few hours if you request it, for no additional charge.
Don't have an account? Sign up in 30 seconds for free! Get your 3D Puff Digitizing Now.
No subscription and no CC required. So sign up now: https://www.copyartwork.com/signup.php
Go see similar embroidery digitizing blog posts here:
(https://vectorsquad.com/baseball-puff-digitizing/)(https://vectorsquad.com/embroidery-digitizing-2-20-20/)